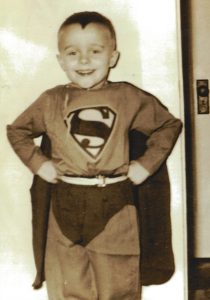 Legacy planning can be very complicated and that's why we're here. We'll walk you through beneficiary designations, trusts, wills and marital agreements, and we'll work with an estate attorney to help you develop the appropriate paperwork. But, there's another kind of estate we believe is even more important, one built not from your coins but from your character.
It's really easy to leave a lasting legacy of kindness.
Nearly 60 years ago, Packer quarterback Bart Starr popped in to visit a seriously ill little boy. The visit cheered then 10-year old Terry Winch up and continues to inspire him today.
"It was so memorable that, even today, when I meet someone new within an hour or two I'm telling that story," he said.
Back in 1960, Winch suffered a dangerous bout of rheumatic fever that attacked his heart. Initially treated by a local doctor, he later spent three months at Marshfield Hospital and several more months recuperating at home in a hospital bed set up in his parent's bedroom.
"One day I heard a car door slam and I looked out and saw my mom's boss, Dr. Langdon, walking toward our breezeway, which was not unusual," Winch said. "But then I heard a second car door slam and I saw Bart Starr coming in with him. As you can imagine, it was overwhelming. The Packers were a force to be dealt with and here he was, standing right next to my bed! So, I'm just not believing what I'm seeing…How amazing that was for a 10-year old kid – that Bart Starr came to his house."
During Winch's long recovery, he also enjoyed the positive influence of his older brother, Dr. Tim Winch. For a long time Terry wasn't able to move far from his bed, but he was able to make it to the living room and that's where Tim taught him how to play piano.
Those lessons led to a distinguished career in music and another encounter with Terry's sports hero, 25 years later.
"I had written the Super Bowl XIX halftime show and I was there in that capacity," Terry said. "I saw Bart Starr get off the bus and I wanted to re-introduce myself, to let him know that not only am I alright, I am thriving."
The moment passed and Winch was not able speak to Starr then, but, six years later, at Super Bowl XXV, Winch happened to be standing close enough during pregame festivities when they announced each Super Bowl MVP.
"Because he was the first, he ended up standing right near me," he said. "I said, 'You won't remember my face, but you might remember the event. You came and visited a kid and that was me. I'm thrilled to be able to come up and thank you all these years later for what you did for a kid.'"
"You spend a lifetime being grateful for something someone did for you and you finally get to thank him in person. It was like recreating a moment from when I was ten."
It's amazing how a single gesture can change a life.
Most of us will never inspire the kind of excitement a young Terry Winch felt when he saw Bart Starr walking up his parents' driveway, but we can all aspire to be MVPs of kindness.